Manning Publications has a new MEAP (Manning Early Access Preview) title, Reactive Applications with Akka.NET.
Reactive Applications with Akka.NET begins with an overview of reactive and a sample application written in the reactive style. You'll learn concepts of the actor model and what these mean in a real-world reactive context. This hands-on book builds on fundamental concepts to teach you how to create reliable and resilient applications. You'll also learn useful Akka.NET features for building real-world applications. By the end of the book, you'll be able to look at a problem domain and understand how to create applications which are able to withstand the demands of a modern day application.
From now thru February 3, 2016, Morning Dew readers can get 40% off all formats of this title by using discount code rakkanet at checkout.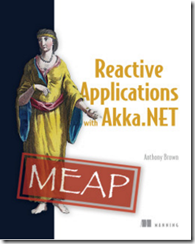 Cheers!
Alvin